FREDDIE ROWE
- IN MEMORIAM
Freddie Rowe very sadly died on October 31st, 2019 in Penrice Hospital after a short illness, shortly before his 90th birthday. Freddie had been involved with drama and the theatre, particularly theatre in Cornwall, for over 70 years. His last production as director for StAPS was "The Little Mermaid", and one of his abiding regrets was that he never got to direct "The Railway Children" by E. Nesbitt.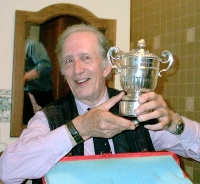 He first became involved in drama at his all-boys school, where, being quite small at the time (he was nicknamed "Mini"), he played only girls – Lady Macbeth, Juliet and Titania, to name but a few. It was only after he left school that he shot up to his eventual 6'3"! From the very first moment of setting foot on the boards he was hooked, and made up his mind that that was what he wanted to do.
Freddie, Cornish born and bred, was brought up on Little Trewithen farm, where the family bred and showed horses and Freddie was a keen rider. But his first passion was theatre, and in 1947 he went to drama school and later got his Equity card that he still had until 10 years ago. He did three lots of Summer Schools at the Bristol Old Vic where he learned to give tutorials on all aspects of drama but particularly on projection and voice training.
During his varied career he rubbed shoulders with some very famous people – he was in a mini TV series called "The Manions of America" in the 1980's with a very young Pierce Brosnan and when parts of the 1996 BBC production of "Moll Flanders" with Alex Kingston and Daniel Craig were filmed on the Fal and at Charlestown, he spent a lot of time chatting to Diana Rigg!
He joined St. Austell Players in September 1950 when he was 20 and his first acting role with them was in the 1951 touring production of "See How They Run". Their first production at the newly-erected Arts Theatre was "Tartuffe" in 1961 and of course, Freddie was in that, as was a very young John Nettles!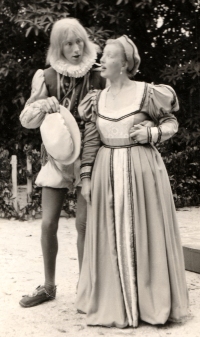 Of the 330 St. Austell Players' productions since 1951, Freddie has been involved in 115 of them, 69 of which he has directed. He has also "guest directed" for other groups, among them Troy Players for whom he directed "Arsenic and Old Lace" and "No Sex Please, we're British", a production for Launceston, two for Liskeard, one for Saltash and 14 productions for Newquay Operatic Society. He was asked, at the last minute, to play Sir Andrew Aguecheek in "Twelfth Night", at the Minack Theatre by the West Cornwall Theatre Company, and that role, which he played three times, remained one of his all-time favourites.
His other roles have been as diverse as Queen Dandruff in the panto "Sleeping Beauty" and Nurse Glucose in "Babes in The Wood", for St. Blazey Operatic Society. He also did a professional stint with English Heritage working at Pendennis and Restormel Castles, dressed in armour and riding a horse as part of history lessons for schools. In fact, because of his farming and horsey background, he had been called upon several times to be an "animal handler" in various professional productions. In his early 20's he was a member of the Young Farmers Association, and helped the Probus group, "Our Club Entertains" with various productions that were very well received.
When asked which he preferred, acting or directing, he gave it some thought and then said he enjoyed both equally, but when directing he thoroughly enjoyed working with teenagers and young people generally "as they don't forget what you tell them"!
He was made a lifetime member of the CDA in recognition of his dedication and service to theatre and the contributions he made as an adjudicator and committee member. In fact the CDA introduced the "Freddie Rowe" award in his honour, as did StAPS for anyone who went above and beyond the call of duty – the first recipient being Kelly Harrison for her tireless efforts making costumes. Freddie was also the Theatre Manager at St. Austell Arts Theatre for about 20 years, which was a demanding but enjoyable role. He once said, "I have spent more time doing theatre than anything else".
His proudest achievement was directing "On the Road Again" in 2003, which won the All England Theatre Festival. This then went on to represent England in the GB finals on the Isle of Man, and was the runner up as Best Play, but Freddie was awarded Best Director and the two actors in it shared the Best Actor award. He received numerous awards, mostly for directing, of which he was understandably very proud, and he was delighted that two of his former protégés, Darren Seed and Paul Brady, have now gone on to be professional actors. They kept in touch with Freddie and always said that if it weren't for him, they would never have been able to achieve what they have.
Freddie once said, "I've lived the theatre all my life". Indeed he did, and weren't we lucky to have had him? We will miss you, Freddie – there will never be another like you.